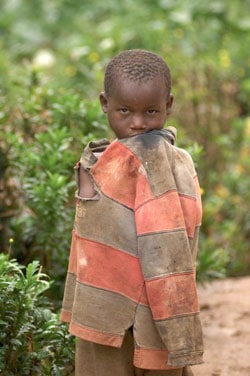 I live in Kenya. Every day, I walk miles and miles along a dusty road to my little school, grasping my bucket tightly so I can get water for my mother on the way back. She cooks our food and washes our clothes with my water. We also drink from it. It is dirty yellow-brown from all the mud.
I've worn the same torn and tattered coat ever since my big brother grew too big for it. My mother gave it to me and I've played in it until it's become the same color as the dirt that I walk on. But I am thankful for what I have and I will keep on wearing it until it is just a patched-up rag.
Sometimes I wish we had more clothes, clean water and three meals every day. But, like many of my friends, we are poverty-stricken and don't have the money for everything we need. And that is why I still wear my worn-out coat.
(This is a post for
Compassion Blog Month.
Please
join in the fight
against poverty.)