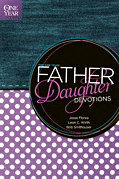 The One Year Father-Daughter Devotions is a day-by-day book designed to keep the relationship of a Dad and his daughter close and special as the daughter becomes a young lady. It includes a movie night guide in the back, "On this day" devotionals, and true stories of various individuals. At the end of each devotional, there is a "What's The Word?" with the Bible verse pertaining to that day's devotional. From topics about computers to Olympic sports, it is very informational.
I enjoyed this Devotional because I learned about many different things from this book, including care packs and adoption.
I liked the history behind some of the devotionals, and some of the stories were downright funny (thieves' antics, translation mess-ups, etc). The topics of World War II, music, and the Olympics were very enthralling for me.
I wasn't impressed with the movie guide because it had movies I have never heard of and some I don't watch. The devotional seemed more public-school centered, and I am home-schooled.

There seemed to be a lot of Bible versions which left me wondering why they couldn't just stay with one version instead of a whole bunch. The confusion of which version this verse or that verse was from led us to using our own Bibles.
Here is my Dad's view of the Devotional:
I would like to see more scripture with each entry that would assist with the context. I prefer us to look the scripture up in the Bible rather than read from the devotion because it seems to paraphrased. I like the content of the daily readings which includes some interesting tidbits of history. The length is appropriate for the daily readings. I enjoy being purposeful about our devotion time, and we have easily adapted it to read with our entire family in the evenings.
This is my first review as a Tyndale Blog Network blogger. I received this book from Tyndale House Publishers in exchange for my honest review.